Welcome!
The Town of Weston is developing a plan for an electricity aggregation program called Weston Power Choice. The program provides an opportunity for Weston to increase the amount of renewable energy in the community's electricity supply. The draft aggregation plan is currently undergoing review by state regulators. Regulatory approval is required before Weston Power Choice can launch.
Watch the public presentation about Weston's Aggregation Plan for an overview of how Weston Power Choice will work. (Video length: 28:44)
Download the following documents, which were submitted to the Massachusetts Department of Public Utilities (DPU) for review and approval: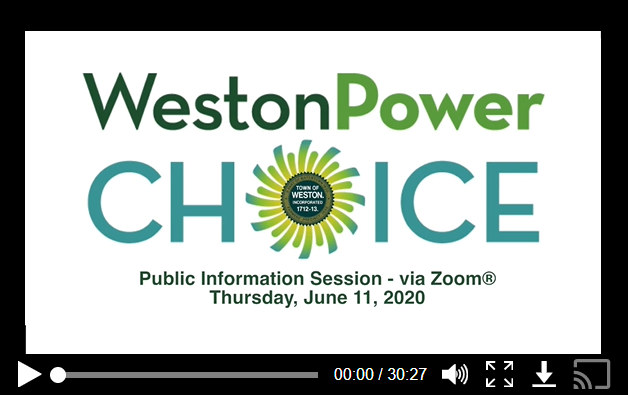 Download the brochure (PDF)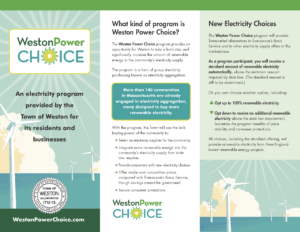 One of the most cost-effective ways to reduce your carbon footprint
With Weston Power Choice, the Town will use the bulk buying power of the community to provide you with new electricity choices that will give you greater control over the environmental characteristics and price of your electricity supply.
| | |
| --- | --- |
| Cleaner electricity | Weston Power Choice participants will automatically receive more renewable electricity than is required by state law. (The amount is still to be determined, depending in part on electricity prices at the time the Town enters into a contract with an electricity supplier). Participants can also choose to opt up to 100% renewable electricity or opt down to receive no additional renewable electricity but retain the program benefits of price stability and consumer protections. |
| Price stability | The program will provide a fixed price for electricity supply over a long period of time. This will make the program different from Eversource's Basic Service price, which changes every six months or less, and from many commercial offers in the marketplace. (Please note that savings compared with Eversource's price cannot be guaranteed.) |
| Consumer protections | Weston Power Choice will provide a trustworthy, Town-vetted alternative to other commercial electricity supply offers. The program will include consumer protections, such as no hidden fees and the ability to opt out of the program at any time with no penalty. |
Weston Power Choice will launch once Weston's aggregation plan receives regulatory approval. Learn about the implementation process.
How it works
Municipal electricity aggregation is a process by which a town can purchase electricity in bulk from a competitive supplier, on behalf of the residents and businesses within the community. Since 1997, over 140 communities in Massachusetts have engaged in electricity aggregation. Participating in Weston Power Choice will change your electricity supplier and the price Eversource uses to calculate the supply part of your electricity bill, but participating will not replace Eversource as your electric utility.
All residents and businesses that are currently on Eversource's Basic Service will be automatically enrolled in Weston Power Choice, in accordance with state law. However, participation is not required. You may opt out before being enrolled, and any time after enrollment in the program, with no fee or penalty.
Example Eversource bill
Weston Power Choice will be integrated into your existing Eversource electricity bill.
View an example Eversource bill to learn:
Where Weston Power Choice will appear on your bill

How you will be able to use your bill to figure out in which program option you are enrolled
Savings cannot be guaranteed
Please note that, while Weston Power Choice will offer the potential for savings when compared with Eversource's Basic Service price, there is no guarantee of savings. This is because Eversource's fixed Basic Service prices change every 6 months for residential and small business customers and every 3 months for large business customers and future Eversource prices are not known.
Protect your Eversource account number
Eversource will NEVER knock on your door or call you to talk about your electricity bill. If Eversource wishes to discuss your bill, they will do so in writing. Also, all communication about Weston Power Choice will be in writing and will bear the Town seal. Only provide your Eversource account number if you are ready to change your electricity supplier.